2019 Fitness Goal – 5k Run
Well… the path to beating my dad's personal record time for a 5k just paused… and took a few bunny hops backwards. Ten days before the race, I strained my hamstring during a floor hockey game. This limited all my training runs leading up to the race. I think I ran five training runs from the time of injury to the race and each one was 1.5 miles or less. Not ideal preparation for a 3.1 mile race. Still, I was fairly confident going into the race, and even during it until the 2 mile mark. At that point, I had burned out. And, you can see this in my mile splits and heart rate elevation shown below.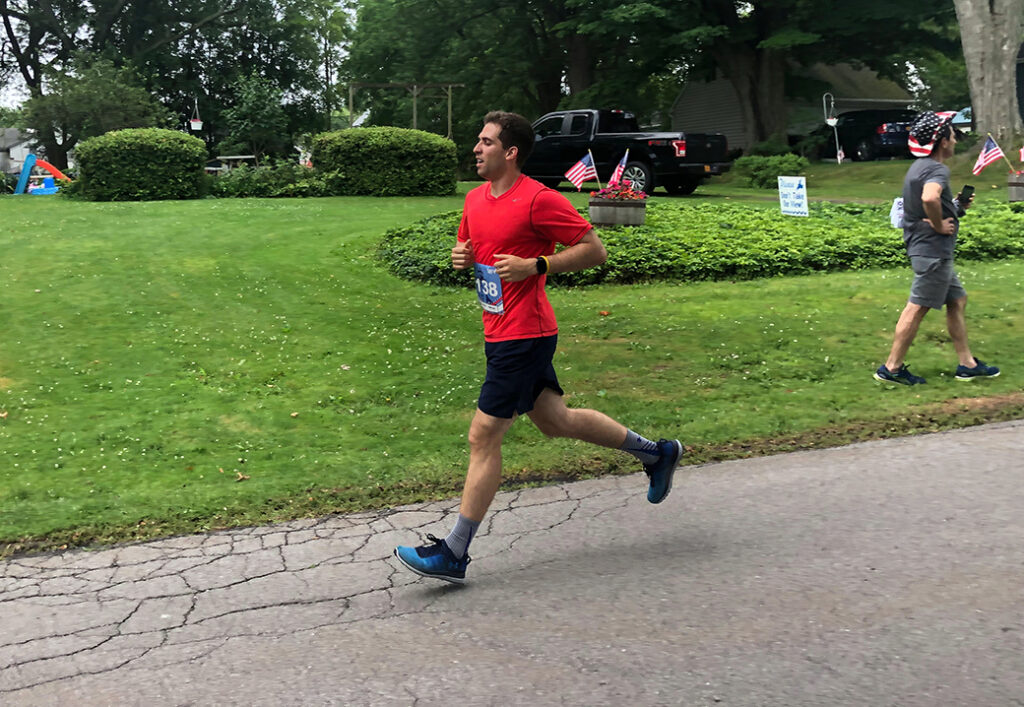 It was pretty hot and humid for a race day but even with that, my injury, and lack of training, I was expecting my time to be below 20 minutes. Oh well… my hamstring feels mostly healed now so it's back to training. I have about 6 weeks before my next race so that should provide me ample time to train. I'm hoping my August run will be below the 19 minute mark. Let's get back on track! Back to chasing dad!

Finish Time: 21:32 (2 minutes 9 seconds slower than June…)
Mile Splits: 6'15" 6'47" 8'02"
Avg. Cadence: 165 SPM
Elevation Gain: 39 feet
Weather: 80°, cloudy, 74% humidity

New Workout Program!

My girlfriend and I started a new Beachbody workout program 12 days ago. We decided to start out with 21 Day Fix Real Time. I've completed other Beachbody workout programs in the past (Insanity and T25) and have been satisfied with the programs. So far, the workouts have been pretty good. They take approximately 30 minutes a day, can be done in an apartment if you have a few sets of dumbbells, and fit all levels of fitness. If I start doing more of these programs, I may start taking before/after photos, recording progress, and performing further tracking. As a note, each day I get my 5k training in before the Beachbody workouts since my main goal is surpassing my dad's 5k PR.
The Physical and Brain Fitness Correlation
A study was recently published in the Journal of Applied Physiology that looked at the correlation of physical fitness with cognitive health in seniors. What the study showed was that seniors who exercised regularly saw improvements in their cognitive and executive function. Specifically, the improvements were seen in memory and reasoning skills. It was also shown that averaging 20 minutes of exercise per day improved one's ability to process information.

Although, I break up a lot of my blog posts by categories like fitness, nutrition, sleep or cognitive health, the reality is that all of these categories overlap. Better nutrition will help with better sleep and physical fitness. Better physical fitness will help with cognitive health. That's why it's important to live a well balanced lifestyle that focuses on being healthy in each category. Even if you're not interested in being physically fit, just know it's going to help with many other areas of your life. And in the end, with a well balanced approach, you'll find yourself much happier in life when you're well-rounded and healthy.

For Older Men Physical Fitness = Brain Fitness
Summary
After an annoying injury and lack of training, the path to surpassing my dad's 5k time just got muddier. But, I'm in the middle of a new workout program that may help get me back on track. Plus, it's nice to see more studies showing how physical fitness can help promote health in other aspects of my life like cognitive health.
If you liked this post, please subscribe to the weekly newsletter and follow the social media accounts for the latest content!
Disclosure: I frequently review or recommend products and services that I own and use. If you buy these products or services using the links on this site, I receive a small referral commission. This doesn't impact my review or recommendation.