Have you ever gotten back from vacation and felt exhausted? Like you need a vacation from your vacation. Have you ever gotten back from vacation and been in shock by your trip's costs? Like you didn't realize eating out for every meal and paying for every amenity wouldn't add up. Have you ever gotten back from vacation and lost track of all your goals? Like your vacation ended your diet and workout plan that you were doing so well at.
Well, vacations don't have to be like that. I just got back from my first vacation this year, and with some thoughtful planning and great support, I can say I vacationed right. I feel refreshed and excited to get back to work. I spent what I had budgeted so I have no stress and am ready to start saving for the next. I maintained my nutrition and fitness goals. And, I'm super happy with the experience.
In this post, I'll detail the things I did that made my vacation successful.
Fitness
I woke up each day around 6 or 7am and if I wasn't watching the sunrise immediately, I laced up the running shoes and hit the road. Each of the five full days on vacation, I was able to complete a 5k training run. And since it was a vacation, I decided to add some fun twists to it. One day I ran on the beach during sunrise, another I raced my girlfriend through a 5k road course, and another I ran along a bike trail through canopied woods.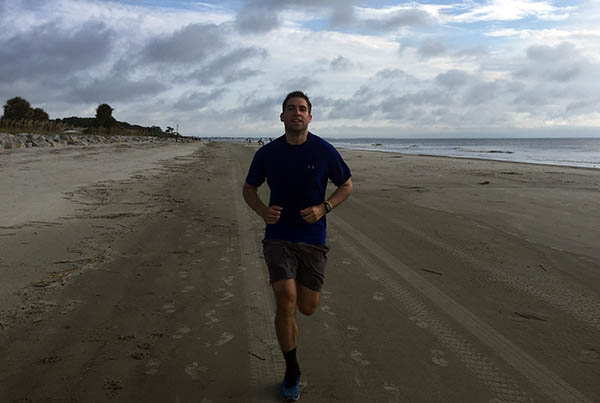 Shortly after the run, I'd eat a quick breakfast before hitting up the local gym. The gym had some new equipment so I decided to mix up my lifting program with some new exercises. I also completed one of the workouts with my girlfriend, her mom and grandma all joining in. It's always fun to get more people to workout with you.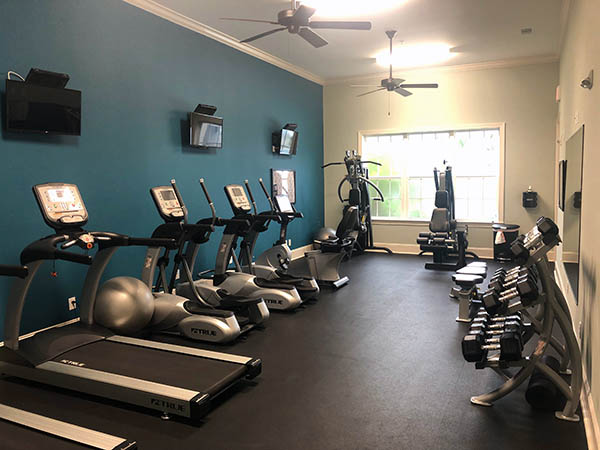 After I completed my workout, I got back to our cottage and showered off to begin the vacation day. It's now only 10am and I've completed both a cardio and strength workout. I found this to be a routine I enjoyed a lot. Knowing my morning was already productive allowed me to have fun for the remainder of the day without worrying about being lazy.
To top off the fitness section, we made sure to bike or walk anytime feasible. This allowed me to average ~20,000 steps per day. On vacation.
No falling behind on cardio, strength, or daily activity goals. Vacationing done right.
Key Takeaways:
Schedule a time to workout during your vacation. Even if it's only 30 minutes, you'll be happy you did.
Change up your routine. It's a vacation. Do something a little different. Enjoy your new surroundings.
Stay active. Bike and walk whenever possible. Exploring your new destination on foot is fun.
Nutrition
We kicked off each breakfast with fruit smoothies and peanut butter bagels or toast. We decided to change up our smoothie ingredients each day with frozen strawberries, blackberries, mangoes, peaches, bananas and more. It was a great way to start the day off with a few servings of fruit, nuts and whole grains.
For lunch and dinner, we usually decided to make one meal at the cottage and explore a new restaurant for the other. When we cooked in, we found ways to eat healthy, plant-based meals. For example, one night we cooked beyond burgers, veggie shish kabob's and grilled corn with sides of grapes and mango. Cooking in was an easy way to stay on track. We also visited the local market for local ingredients which was neat.
When we did explore a new restaurant, we looked for places with vegan options. We actually found an entirely plant-based restaurant in Savannah called Fox and Fig which was great! We ended up eating there twice since it was so good (meals pictured below).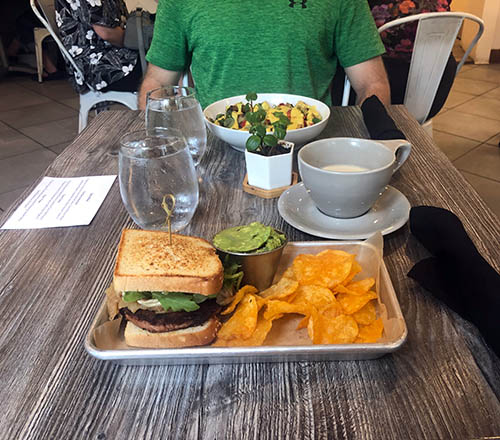 Overall, it was a pretty nutritious vacation I'd say. I was able to maintain a whole foods plant-based diet all while exploring new restaurants, new menus, and new food. Vacationing done right.
Key Takeaways:
Make breakfast at home. It's a quick and easy way to eat healthy while planning your upcoming day.
Try to cook at least one meal a day. It's an easy way to meet your nutritional needs.
Explore healthy restaurants. A lot of healthy restaurants have exciting menus with new food ideas.
Sleep
After running, lifting, biking, and tons of exploring, I was pretty tired by the end of the day. That made it easy for me to stay on a consistent sleep schedule. I usually went to bed around 10:30pm each night and woke up around 6:30am. That made for a solid 7-8 hours of sleep. I also made sure the thermostat was set properly and used a fan to keep the room nice and cool. I slept like a rock throughout this trip and woke up feeling energized for the upcoming day. Vacationing done right.
Key Takeaways:
Stay on a sleep schedule. It makes it easier to fall asleep and wake up on time.
Sleep 7-8 hours a day. Being on vacation, you should have time available to get a full night's sleep.
Setup a good sleeping environment. Make sure your bedroom is dark and cool (~68 degrees).
Cognitive Health
With many vacations, it's easy to sit around and do nothing but relax. But, don't let a vacation stop you from challenging your brain and enjoying fun cognitive activities. My girlfriend's grandma brought a challenging 1,000 piece puzzle for us to all work on throughout the week. It was a great way to fill the gaps throughout the day or unwind at the end. With a lot of effort and frustration, we ended up completing it around day 5.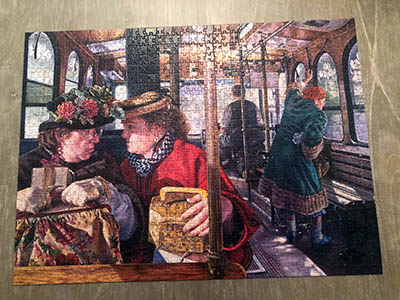 Another fun thing we did was play the card game Spoons! Now that's a good game to work on your attention span, focus, and reflexes. We all sat around a table and played numerous rounds of it and I ended up finishing in second place to my girlfriend who probably cheated… (she didn't but it feels better if I pretend she did).
Lastly, I tried to fit in the brain games on my phone when I could. I didn't get to them too often because I don't want to be that person on vacation but stuck in a digital world. But, I did bring a couple books and accomplished a lot of reading. I read ~100 pages to finish one book and read another ~80 pages to start my next book.
Overall, I think I did a decent job of exercising my brain throughout the vacation. Vacationing done right.
Key Takeaways:
Puzzles are great. They're a fun way to socialize and exercise your brain throughout the day.
Be competitive. Play card or board games with fellow vacationers to keep your brain challenged.
Bring a book. Read during plane rides, wait times, and the days lulls. It's a great way to fill time.
Finances
With many vacations, it's easy for finances to get out of hand with so many things to spend your money on. But, I tried to be fiscally responsible on this trip. To start though, it definitely helped that my girlfriend's grandma booked a large 3 bedroom cottage for the family. This allowed me to stay throughout the vacation without having to worry about hotels costs. This was awesome and truly appreciated. The cottage was fantastic and likely saved me around $150/night. Thanks Sally!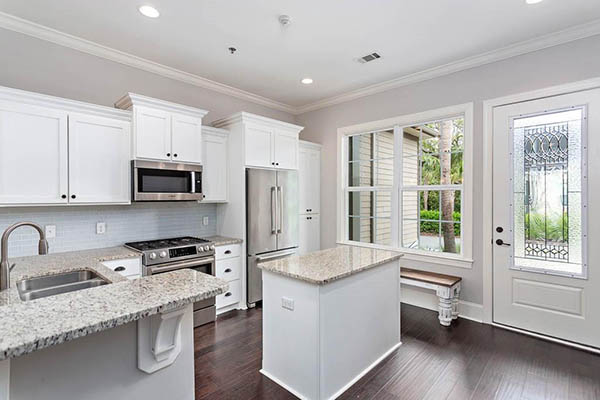 In regards to plane tickets, we flew from New York to Georgia. We spent around two weeks checking ticket prices through all the main and budget airlines before purchasing. In the end, we were able to find Allegiant tickets at $99 a pop for the trip down and American Air tickets at $140 a pop on the returning flight. At $239 for the round trip, I'd say we got a pretty good deal.
We utilized a couple rental cars for the trip and did numerous cost comparisons over multiple days before booking them weeks in advance. The rentals cost me about $165 for the week.
For food, we mostly ate out together as a family and one person usually would pick up the tab. We also purchased groceries a couple times for various meals throughout the trip. Between eating out and groceries, I spent about $200 for the week.
As far as activities, we did a 3-day bike rental for $35, mini-golf and a turtle museum were paid for by the girlfriend's family, and everything else was free. We took numerous trips to the beach, alligator pond, nearby parks and a fishing pier.
In total, for a 7-day vacation it cost me around $640. At less than $100 per day, that's a great value for an amazing vacation. Vacationing done right.
Key Takeaways:
Compare transportation and housing costs A LOT. Whether it's plane, taxi, rental car, or hotel… look hard for deals. Look for multiple weeks on different days of the week. Look at reviews and ratings too.
Do free things. Walking beaches, parks, and cities are a fun and free way to vacation.
Cook meals at home. Head to the grocery store, buy local food, and cook yourself. It's fun and cheap.
Minimalism
When going on vacation, it's easy to pack everything you may need in multiple suitcases. It's easy to buy tons of souvenirs in remembrance of the trip. It's easy to plan the most extravagant activities.
I packed one backpack and a shared suitcase with my girlfriend. I brought sandals, running and everyday shoes. I packed 4 shirts, shorts, socks and underwear. I grabbed my toiletries, sunglasses and a laptop. I was set. This relieved a lot of stress while I was traveling and on vacation. I didn't have to worry about checking in a bag or dragging multiple suitcases through the airport and rental cars. I didn't have to worry about what to wear because I had very few options. Traveling light is traveling easy.
I bought one souvenir on the trip. A bottle opener to add to my 99-year old grandpa's collection. Other than that, I usually find souvenirs to be wasteful. I don't need another shirt, mug, or hat that'll go unused and take up space. I have pictures and memories that are worth way more to me.
All of our activities were pretty simple too. Yes, we did want to do a sunset kayak tour through the marsh to see gators, dolphins, and manatee but missed the opportunity. Instead, we explored numerous turtle nests on the beach at sunset. We explored the island and all it's beauties on bike. We played a competitive match of family mini-golf in the rain. We did the simple stuff. It was fun, stress-free and completely worth it. Vacationing done right.
Key Takeaways:
Traveling light is traveling easy. Pack only the essentials. Essentials you're positive you'll use.
Don't buy souvenirs. That cute turtle bobble-head with a beach shirt might be cute. But I don't need it. And if I bought it, all that cuteness would wear off in a couple days and it'll be shelved and forgotten.
Keep your plans simple. It reduces your stress and gives you more freedom to change plans as you go.
Extras
Despite all the healthy habits and routines I maintained throughout the vacation, there were times of forgetting what's healthy and just doing what's fun. For example, my girlfriend and I enjoyed $20 worth of frozen yogurt topped with everything from brownies, to chocolate fudge, peanut butter and cookie dough. It was amazing and worth the splurge. Plus, we happened to go during a window of time that was 50% off. $20 worth of ice cream for $10! Check it out below.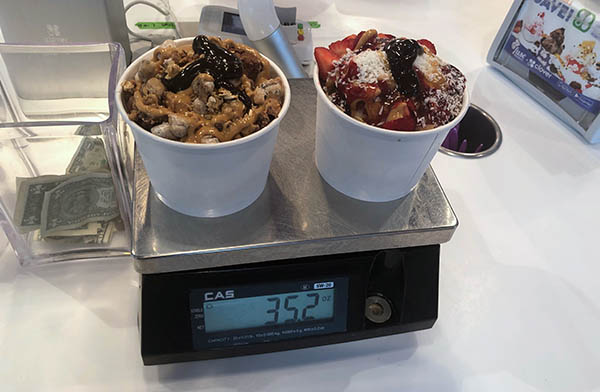 Also, unrelated to health, I thought I'd upload some vacation photos in remembrance of a great stay.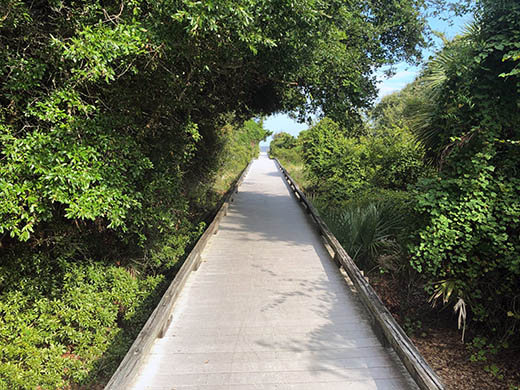 Conclusion
Vacations make it easy to overspend and derail your healthy habits. But, they shouldn't do that. Plan time for workouts, cooking and sleep. Keep your mind active with group games and pass time with books and puzzles. Don't pay extra for all the amenities and extravagant activities. Keep it simple and travel light. Your vacation shouldn't wear you out. It should reinforce your healthy habits in new and exciting ways. Your vacation can be fun and productive. Your vacation can be great.
Vacationing done right.
If you liked this post, please subscribe to the weekly newsletter and follow the social media accounts for the latest content!
Disclosure: I frequently review or recommend products and services that I own and use. If you buy these products or services using the links on this site, I receive a small referral commission. This doesn't impact my review or recommendation.