Most people are confused by what makes up a vegan diet. They usually ask me, so do you just eat a lot of salads? How are you getting your protein? Aren't the meals fairly bland? While I don't call myself a vegan, I do eat a mostly whole foods plant based diet. This means I avoid animal products but every once in a while I do sneak-in a dessert that may have egg in it, or try my girlfriend's burrito that has a little cheese in it. But, other than that I follow a vegan diet. And my vegan diet is probably much more exciting, fulfilling, and sustainable than your traditional american diet. Here is everything I'll usually consume in a day. A day in the life of a vegan.
Breakfast – 6:30 AM
I make this smoothie every morning alongside my peanut butter English muffins. Despite what seems like a dull smoothie ingredient list, it's delicious. It helps me wake up and feel energized to start my day and it's nice knowing I've already consumed 2 servings of fruit and 2 servings of vegetables before 7 AM.
Smoothie Ingredients:
English Muffin Ingredients:
Nutrition: Calories: 714 Fat: 29g Carbohydrates: 97.5g Fiber: 23.5g Protein: 31.6g
Morning Snack – 9:30 AM
I switch up my morning snacks a fair amount depending on what fruits, nuts, or other snacks are already in my kitchen. Earlier today, I ate a couple organic kiwi's and a handful of cashews.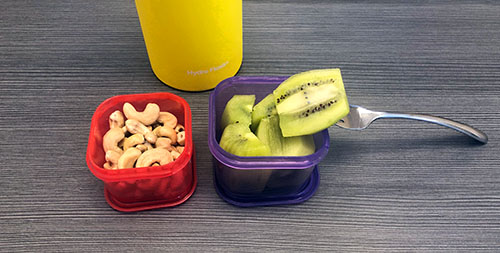 Ingredients:
Nutrition: Calories: 278 Fat: 13g Carbohydrates: 37g Fiber: 6g Protein: 7g
Lunch – 12:30 PM
As often as I can, I perform meal prepping on Sundays so my lunches are already made for the week. For the past month or so, I've been meal prepping a grain bowl that consists of a bed of brown rice, topped with peppers, corn, black beans, sweet potatoes and salsa verde. It's a very filling lunch that I've found provides pretty sustained energy afterwards to fight off the afternoon drowsiness.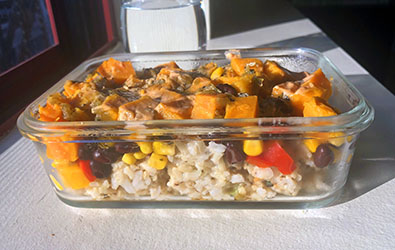 Ingredients:
1 Cup of Cooked Brown Rice
1/2 Grilled Red Pepper
1/2 Sweet Potato
4oz Black Beans
4oz Whole Kernel Corn
1 Clove of Garlic
1 Serving of Scallions
1 Serving of Salsa Verde
Nutrition: Calories: 607 Fat: 2g Carbohydrates: 121g Fiber: 17g Protein: 18g
Afternoon Snack – 4:30 PM
This afternoon snack is one of my favorites. I've been having the same thing for almost a year now and I'm still loving it. I toast up two slices of bread and cover them with guacamole, sunflower seeds and pumpkin seeds. I'll then have a side of dates rolled in coconut and toasted broad beans. The toasted broad beans have some added salt and oil that I'm not thrilled about but the taste and overall health of it is still considered a win for me.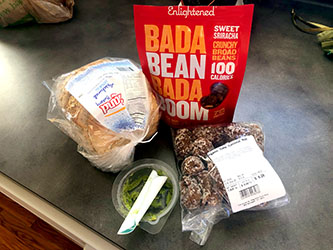 Ingredients:
Nutrition: Calories: 595 Fat: 10g Carbohydrates: 110g Fiber: 21g Protein: 23g
Dinner – 7:00 PM
For dinner, my girlfriend and I try to cook most days throughout the week. We'll usually make a variety of things like veggie burgers, burritos, scrambles or bowls. Below is one of the bigger meals we made last week and it was phenomenal! We made vegan cheese, that we learned from a Brainery event, to go along with our black bean burgers, apple and crackers. This was a pretty large and filling meal.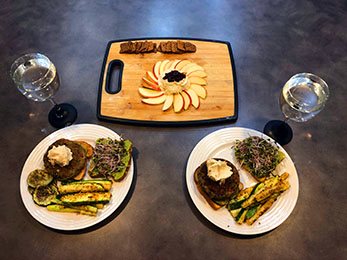 Ingredients:
2 Slices of Bread
1 Black Bean Burger
1 Serving of Homemade Vegan Cheese
1/2 Serving of Guacamole
1 Serving of Radish Sprouts
1 Serving of Grilled and Baked Zuchini
1/2 Apple
1 Serving of Crackers
Nutrition: Calories: 578 Fat: 15g Carbohydrates: 84g Fiber: 20g Protein: 29g
Evening Snack – 10:00 PM
A smoothie bowl is usually the last thing I eat each day. It's packed with protein for recovery and the coldness of it is calming/soothing. What better way to end the day than with another 2 servings of fruit, 30 grams of protein, and nutrient packed seeds. Plus, it's so good that it tastes like a nighttime dessert!
Ingredients:
Nutrition: Calories: 630 Fat: 40.1g Carbohydrates: 35.8g Fiber: 14.8g Protein: 31.3g
Final Thoughts
Wow, that's a lot of food. First, I'll start off by saying that my food calorie calculator wouldn't allow me to add half portions of food so I always input a full portion into the calculator. Second, depending on the size of my dinner, I'll vary the size of my evening smoothie bowl. So, with that being said, I would guess my daily nutrition totals shown below are around 400-500 calories too high which would bring my total to 3,000. And, according to the Mayo Clinic, for my age, height, gender and activity level I should be consuming 3,000 calories which puts me right on target.
Also, I decided to create a chart depicting what my calories are coming from and compare it against the Dietary Guidelines. The Dietary Guidelines recommend you consume 45-65% of your calories from carbs and I'm at 56%. It recommends you consume 20-35% of your calories from fat and I'm at 28%. It also recommends you consume 10-35% of your calories from protein and I'm at 16%. From a calorie source, I'd say my diet is pretty good.
But, let's delve deeper. Throughout the day I consumed 7 fruit servings, 8 vegetable servings and 102g of fiber. Dietary guidelines recommend you consume 5-13 servings of fruit and vegetables, and I'm crushing that with 15 servings. What get's crazy is that the American Heart Association recommends you consume at least 25-30g of fiber per day and I'm consuming 102g. This is where a vegan diet really pays off. By default, you consume more fruits and vegetables than non-vegan diets. And with fruit and vegetables, comes a lot of healthy fiber. The fruits and vegetables also come with tons of nutrients which I wish I would've totaled because I'm sure my vegan diet is overachieving on almost all vitamin and mineral levels too.
I hope this daily food journal shows that a vegan diet can be exciting, fulfilling and sustainable. I hope it shows that it can be filled with protein, tasty food, and a lot more than just salads. I hope it shows what a day in the life of a vegan is really like.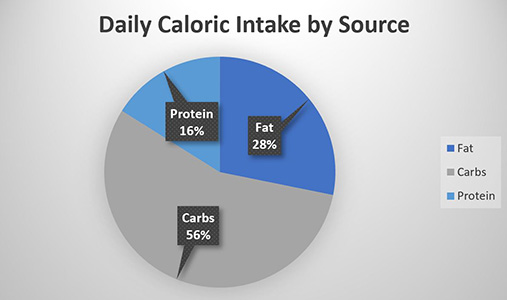 Daily Nutrition Totals: Calories: 3,402 Fat: 109g Carbohydrates: 485g Fiber: 102g Protein: 140g
If you liked this post, please subscribe to the weekly newsletter and follow the social media accounts for the latest content!
*** Nutrition information provided as an estimate only. Various brands and products can change the counts. Any nutritional information should only be used as a general guideline.
Sources:
Disclosure: I frequently review or recommend products and services that I own and use. If you buy these products or services using the links on this site, I receive a small referral commission. This doesn't impact my review or recommendation.