Back in January, I slipped on the new Oura Ring Gen 3 to track every detail of my slumber. I was excited to improve my sleep. Now eight months later and it looks like my sleep has gotten worse. I'm not sure what to do about it. Why'd I get an Oura Ring? How accurate are the metrics it tracks? And how has it affected my sleep quality? Well, let's get into it!
Why I Have an Oura Ring
The third generation of the Oura Ring was released Late in 2021 [1]. It was highly anticipated after earlier generations drew high-profile users like Peter Attia, Tim Ferriss, and Matthew Walker. It's supposedly the most accurate consumer-grade sleep tracker available. And most studies back this up.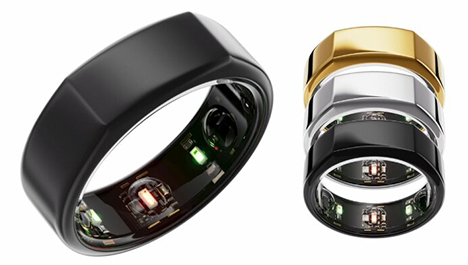 While it tracks and scores three categories of health (Sleep, Readiness, and Activity), I got it for sleep tracking. It's the one area not covered by my Apple Watch. At least not yet. So, my perspective comes from my main use case for it… sleep tracking.
Sleep Score Metrics
The Oura Ring has sensors to track movement, skin temperature, respiratory rate, oxygen saturation, and heart rate. This, in combination with machine learning, allows it to be fairly accurate compared to the gold-standard polysomnography (or a sleep study). So, here's how Oura Ring determines your sleep quality or sleep score: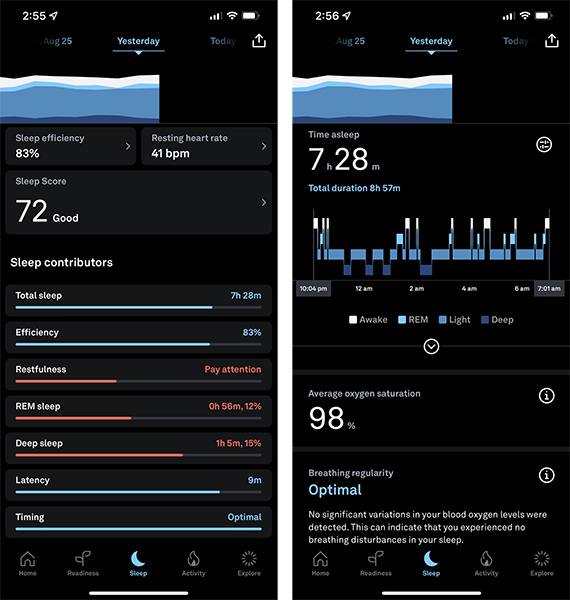 Has It Improved My Sleep?
All these sleep contributors are combined into one Sleep Score. This is the score that grades your total quality of sleep each night. This is one feature I love. Oura offers the ability to see any of their tracked metrics in trend charts. Instead of obsessing over one night's sleep, you can compare day-to-day, week-to-week, or month-to-month averages. I find the accessibility of Oura's data lovely. But that hasn't translated to improved sleep for me.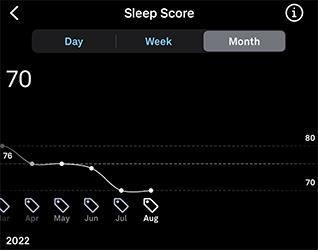 My Sleep Score started around 78 in January but now sits at 70. My sleep score has gotten worse and I'm not sure what to do about it. I follow each of Oura's behavioral and environmental suggestions. I listen to and implement all of Matthew Walker's sleep hygiene tips (the world's most popular sleep expert). With my level of effort, you'd think my Sleep Score would be in the 90s. I'll probably run this by my primary care physician too, but here's my problem. It's possible Oura has made me aware of my otherwise unknown poor sleep quality. But it hasn't helped me fix it. Or it's possible the accuracy of the ring, or the accuracy of sleep contributor requirements, are wrong. In that case I could be concerned about nothing. In either case, I can't say it's improved my sleep. While I still check the metrics every morning out of curiosity, I don't find my Oura Ring to be that useful.
Final Thoughts
Sources: