I found a whole foods plant-based dinner and dessert recipe you need to try. Ok you don't need to… but you might want to. There's no added salt. No added sugar. And no use of oils. It's a recipe packed with nutrients that somehow still finds a way to please the palate. Plus, it includes dessert. What is this meal? How can you make it? And can you please just tell me what's for dessert? Well, let's get into it!
Collard Greens and Tofu
When it comes to creating healthy meals, I have one focus. Food group diversity. I try to add a mix of beans, grains, greens, fruits, vegetables, and nuts/seeds. This collard greens and tofu dish hits 5/6 groups. Only fruit is missing. But don't worry, just wait for dessert. So, this is a typical dinner recipe for me that makes four servings. I'll eat a serving for dinner and use the leftovers throughout the rest of the week. There's no added salt, oil, or sugar either. Yet, it's delicious!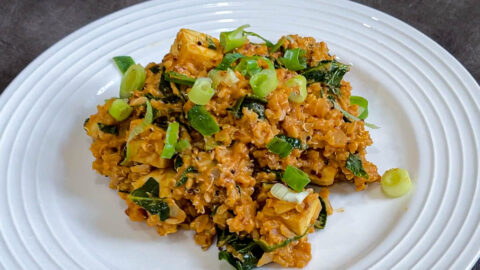 Print Recipe
Ingredients
½

cup

Rice

½

cup

Quinoa

16

oz

Tofu

firm, drained, 1" cubes

1

cup

Onion

chopped

1

tbsp

Ginger

grated

1

tsp

Chili Powder

2

cup

Vegetable Broth

½

cup

Peanut Butter

2

tbsp

Tomato Paste

4

cup

Collard Greens

chopped

1

tbsp

Lime Juice

4

Scallions

thin sliced
Instructions
Bring quinoa, rice, and 2 cups of water to a boil in a medium pot. Then cover with lid, reduce heat to low, and let simmer for 20 minutes.

Preheat oven to 350°F. Place tofu cubes on a parchment paper lined baking sheet and bake for 30 minutes.

In a large pan, sauté onion and ginger until softened. Add chili powder and cook one more minute.

Stir in lime juice and top with sliced scallions.
Half-frozen Fruit and Flax
Next, I have a super simple dessert recipe from Dr. Fuhrman. Half-frozen fruit. Before starting to cook dinner, you can fill a bowl with your favorite frozen fruit. While you cook, it'll slowly melt. After you've made and eaten dinner, you'll have half-frozen fruit which feels like ice cream without any guilt. My favorite is mango and blueberries. And to create more food group diversity, a sprinkle of flax seeds on top gives it a more robust nutrient profile. You must try it!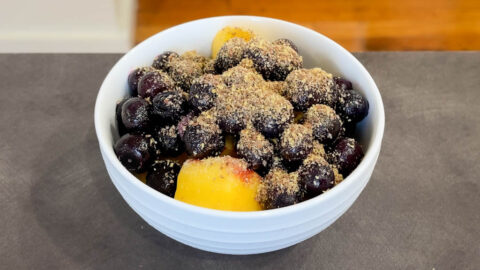 Print Recipe
Ingredients
2

cup

Mango

frozen, cubed

2

cup

Blueberries

frozen

¼

cup

Flax Seeds

ground
Instructions
Mix frozen mango and blueberries in a bowl.

Let it slowly melt for 45 minutes.
Final Thoughts
It's possible to cook tasty, healthy meals without adding salt, oil, or sugar. Instead, focus on food group diversity. Beans, grains, greens, fruits, vegetables, and nuts/seeds are my aim for every meal. And don't forget dessert! Leaving out some frozen mango and blueberries while you cook is an easy, rewarding treat at the end of the day. I'll usually have something like this just before 7pm. That way I've given my body at least three hours to digest before heading to bed. These are a few of my habits for health excellence.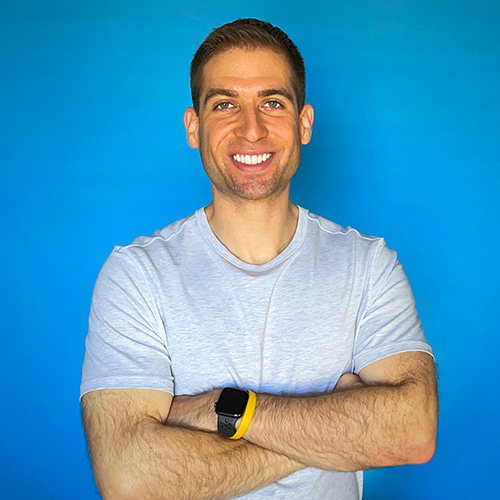 Hi, I'm Brandon Zerbe
Welcome to myHealthSciences! Every week I share habits for health excellence. I do this by covering topics like Fitness, Nutrition, Sleep, Cognition, Finance and Minimalism. You can learn more about me here.
Sources:
No sources, what a shame.